Benefits
Design offers a fulfilling work environment where team members are rewarded for their contributions. We offer a competitive benefits package that includes:
Compensation
Our compensation plan includes base salary, quarterly and annual bonuses and incentive stock options.
Benefits
Grand Design offers an array of benefits, including:
Health Care— We offer free full health care coverage to you and your family that includes 100% coverage without deductables for:
Flexible Benefits Program — We enable team members to pay for certain qualified items with pre-tax dollars, such as:
Optional medical, dental, vision and other medically related expenses that are not covered by insurance
Day-care expenses
Employee Assistance Program — To help team members resolve issues outside of the workplace, our Family Services program offers everything from short-term counseling to assistance with legal referrals and child and elder care referrals.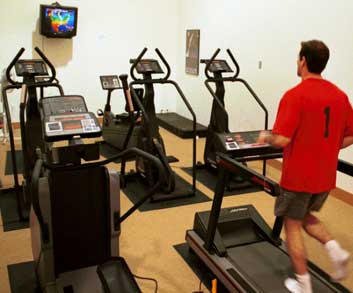 Grand Design's on-site fitness center.
Leave
In addition to all federal holidays and two floating holidays, team members receive paid vacation and sick leave in the form of a Personal Time Off bank where you accumulate 22 days per year. Beyond that, our Flexible Rewards Program allows you to take your eligible extra time worked as time off, up to an additional three weaks per year. You can also choose to have your banked PTO hours paid out. Team members can also take family, medical, personal, bereavement, jury duty, military and adverse-weather leave.
Extras
At Grand Design's Broadband Center (our corporate headquarters), team members can enjoy:
On-site fitness center — Features a wide variety of exercise equipment and free weights.
Hank's Coffee — Full-service espresso bar with breakfast and lunch items.