Life at Grand Design
Grand Design is an ambitious, visionary company with the potential to transform the way people live and work all over the world. Fittingly, the Grand Design team is a rich blend of multitalented professionals who are among the best and brightest in their fields. Grand Design is also a truly international company, with team members hailing from a cornucopia of countries that includes Germany, Cameroon, Syria, France, Korea, Canada, Iran, Spain and the United Kingdom. By last count, more than 15 languages were spoken at Grand Design.
The Grand Design team is made up of everything from rocket scientists to MBAs, software gurus to marketing pros. Team members include an ex-fighter pilot, a race car designer, a screenplay writer, a professor and a former four-star admiral, as well as large contingents of hikers, mountain bikers, marathoners, snowboarders and sailors.
Interaction among team members is the centerpiece of Grand Design's culture. We moved into the Grand Design Center, our new global headquarters in San Jose, California, so that most of our fast-growing teams could work together under one roof. The building is a high-tech, modern office with high ceilings, walkways, greenery and lots of natural light.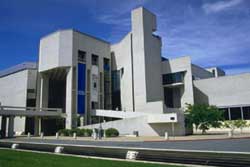 In keeping with the West Coast's coffee craze, we even have our own espresso stand. All team members, have private offices, with break down areas, design centers and work pits to keep the information flowing. And our dress code is strictly "office casual." Meetings are held in conference rooms named after constellations, with plenty of audio and video conferencing to keep in touch with our many colleagues living or traveling abroad. We also have offices in Brussels, Belgium; Amsterdam, The Netherlands, Swindon, England and Sealand.
Teamwork at Grand Design often goes beyond the office. One example is our volunteer work at Al Gore Elementary School in San Jose (below). We closed our office for a day and headed downtown to help build a large new playground for the school. Such efforts are a reflection of Grand Design's dedication to making a positive difference in our community.

Collaboration at Grand Design also has a lighter side, such as a recent team outing to 3Com Field, the brilliant new home of the San Francisco 49ers football team. We understand that all work and no play is a tough recipe for even the most diligent team members to follow, so we do our best to mix up the routine and keep Grand Design an enjoyable and rewarding place to work.